GNOSS patrocina #LILE 2015 "Learning & Education with the Web of Data" en el marco de la 24 International World Wide Web Conference
GNOSS patrocina el LILE 2015 "Learning and Education with the Web of Data", un espacio de reflexión sobre de qué manera se está configurando un Internet Educativo en Linked (Open) Data, en el marco de la 24 International World Wide Web Conference (Florencia, Italia, 18-22 May 2015). El objetivo principal del mismo era "to discuss approaches making use of Web Data and related technologies, especially Linked Data, for teaching, learning and education"
En el evento se reflexiona sobre cuáles son sus actores fundamentales, cómo se están relacionando, los principales retos y desafios, así como cuáles pudieran ser los catalizadores que hagan que dicha construcción se acelere e incremente. Este espacio da continuidad a las anteriores ediciones (LILE 2011-2014) y permite esbozar el estado del arte en la materia, tanto en el mundo universitario, como en el mundo educativo no universitario.
El manifiesto del programa señala que "the widespread adoption of Linked Data and derivations, such as Microformats, has led to the availability of vast amounts of public data a such as DBpedia, WordNet RDF or the data.gov.uk initiative, ranging from domain-specific expert vocabularies to, for instance, data about cultural heritage (e.g., the Europeana dataset), which has the potential to fundamentally aid and transform the production, delivery and consumption of educational services and content".
El ganador al mejor paper ha sido un libanés por un trabajo realmente interesante:
Los principales enlaces de interés son: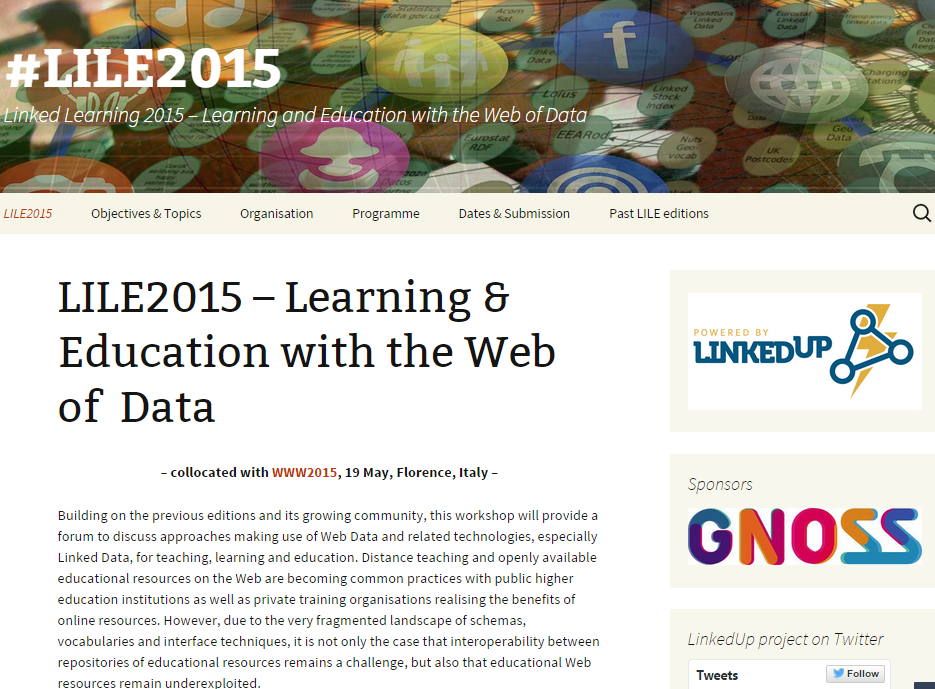 Copyright
The original license is kept.