'Could data save newspapers?' (Inma - Kylie Davis)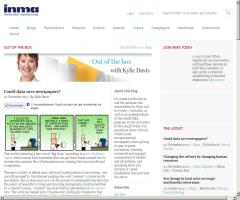 Interesante artículo en el que se analiza la repercusión que pueden tener las estrategias basadas en datos en medios de comunicación:
McKinsey offers up five areas to consider:
Data is no longer proprietary. Rather, it is undergoing "radical transparency." Consider the implications for your business.


Big data allows you test all your decisions and conduct experiments. Consider how that could change the way you compete.


Big data allows widespread, real-time customisation. Could this be a game changer in your business? The answer for newspapers is clearly 'yes' on this. We're seeing the impact of it already.


Big data can augment or even replace management, or some managerial decisions. (Bring it!)



New business models are being built on data.
Copyright
The original license is kept.